#4 Clean the Closets:
I remember my mother's insistence that I put my clothes in my drawer NEATLY. I was impertinent. Who cares what my drawers look like anyway??? Well, I'm sorry mom. You were right, I was wrong.
Did YOU know that prospective buyers will look inside your closets, and drawers and cupboards, and.....you get the idea. But they will look EVERYWHERE. Some may be trying to be nosy, but most just want to get a feel for how their things will fit inside this house. If you have private documents or valuable belongings, put them under lock and key while your house is being listed. Agents have a responsibility to look after a buyer that is perusing a home, but it is crucial, particularly if you wish to hold your house open to protect your privacy and your most prized possessions.
It's an extra step to tidy up closets and things that many of us dread on a good day, but if you can begin to pack off-season wardrobe items, persevere with pruning the junk drawer and perhaps even that wrangle that wild shrub alongside the house, I promise it will make your home show better. As an added plus you will begin to feel and BE more prepared for your move. Ample storage is a huge selling point, and crammed closets and jam-packed drawers can send both conscious and subconscious messages to prospective buyers that your house lacks space. Bottom line is closets and drawers look far more spacious when we minimize the mass, so take the time to complete this step and it will make a noticeable difference.
One valuable organization tip for those unruly cupboards with lots of loose bottles and extraneous items is to take a trip down to your local hardware store and pick up cloth drawers in the closet section, or even use baskets and plastic containers you already have lying around the house. They are perfect for storage inside the cupboards of laundry rooms and bathrooms in particular, they make packing a cinch and they are a relatively inexpensive way to make the house stand out and get you organized in the process! Because really, doesn't it make you feel so much better than this…….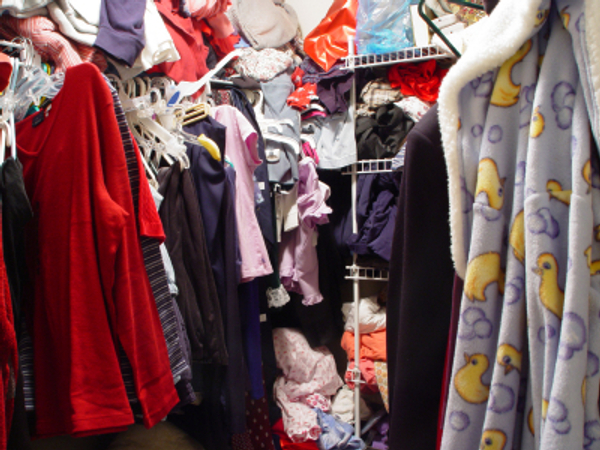 Happy Selling!
Michelle Spalding
Up Next…..Tip #5 Minimize the Mass